Advice on what clothes to pack on a 35-day roadtrop
Thu 21 Jun 2012
Taking a break from event-based blogging to offer some advice to would-be roadtroppers, and plug some items of clothing to which I feel indebted.
I wasn't sure what would be the ideal clothing on this trip beforehand. When we initially chose the dates we'd be away, I thought we'd mostly hit very summery weather, but after a little research, I soon realized we'd have to dress for all seasons, since places like Yellowstone (and as we discovered unexpectedly, parts of California!) would still be pretty wintry -- even snowy.
I knew I was overpacking slightly when I loaded up the car, but this was largely a function of not knowing for sure what would be best, and not wanting to have to go clothes shopping in the middle of the vacation. Particularly, I made sure to bring a variety of shoes, because as I've mentioned, I live a basically sedentary life, and you never know which shoes are going to rub until you start doing 16-mile hikes in them. Beforehand, I actually put all the clothes I wanted to take into a Polyvore collection, so I could survey my entire travel wardrobe at a glance, so you can see basically what I decided to take along there. Below are the clothes that were absolutely essential, and which I would bring again in a second if I went on another trip.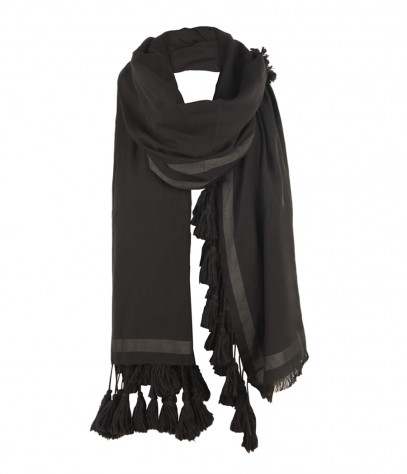 I couldn't do without this scarf ... until I left it at a coffee shop in Wyoming. Because I'm an idiot. I managed to get in contact with the store owner a few days later when we were in Chicago, and she said she would send it back to me in Philly, but it's been two and a half weeks, and I'm still waiting -- so I just went ahead and bought a couple more. They are expensive, but I love this scarf way too much. I also had a bunch of cheap bandanna-type scarves (they're actually table napkins, shhh) to wear as sun shields and sweat-moppers when it was too hot for this one.
===Leather jacket + hoodie===
Obviously, this was the combo for cold weather, with one or the other for temperate weather. The fact that the leather jacket was expensive was tempered by the fact that I bought a bunch of hoodies for $4 each from JC Penney, are you kidding me? Thank you, slave children in China.
===Totally stylin' cargo vest===
This vest makes me look like a tourist, a boy scout, or someone who may or may not be packing heat in one of those pockets, but despite the questionable sartorial elegance, it was invaluable for keeping my hands free, my gear close at hand and easily accessible, and my back from having to shoulder a pack most of the time. I wore a less robust version on our trip to Egypt a few years ago, but thought it was time for an upgrade from a children's fly fishing vest from Bass Pro that I Rit-dyed myself in a saucepan. The fact that the roadtrop vest was oilcloth had the added benefit of keeping me cooler when the heat was blazing, dry in the rain, and warm in the snow, although it also has a tendency to coat everything in the pockets in oil, especially paper goods. I bought one in x-small and still had to take it in about six inches, go figure. It's hard for little people to find tough outdoorsy clothes that fit, and they didn't make this vest in children's sizes.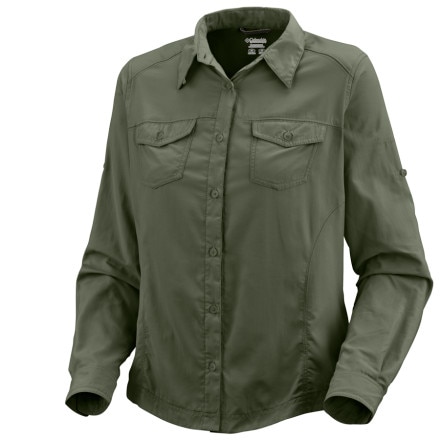 This is the only thing I wish I'd brought more of. I had two lightweight button-downs, and when using them alternately to keep the sun off my arms, even over tshirts, it was hard to keep them from getting gross and sweaty. I also could have used some long-sleeved tees, say, when we were in colder climates.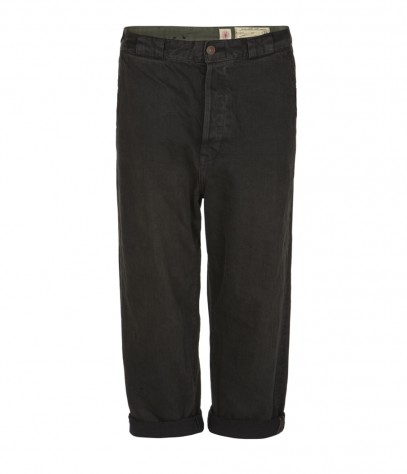 Yes, with their dropped crotch, these are not the most arse-flattering pants in the world. But goddamn, they are awesome. The dropped crotch gives your nethers room to breath, even when sitting down for long periods of time on a leather seat. You can wear them multiple days in a row, like a skirt, without them ever smelling like dirty laundry. They are breezy enough for hot weather, especially with the legs rolled up, and sturdy enough for snow. They are the color of dirt. I got them on sale for $40, and I wish I'd picked up more than one pair, because then that's ALL I would have worn on this trip.
I read elsewhere that you shouldn't bring denim jeans on a trip like this because they take too long to dry, but I never had that problem with these pants, mostly because they needed washing so infrequently. I wish I hadn't brought along other pairs of pants which, although they were made of technical fabrics and were more flattering, weren't as comfortable. I also wish I hadn't brought along so many pairs of shorts and short dresses -- I forgot that sitting on carseat leather in short bottoms makes for sticky thighs, so I had to line the seat with a towel or something. The leggings I brought along ended up being mostly used as long underwear under these pants. My long skirt was OK, but not so rugged. Basically, these pants were the bomb.
I've tried a few different pairs of travel underpants, and I like Ibex best. They're 85% merino, which means they breathe well, don't retain the stench of human, and dry overnight if you wash them in a motel room sink before bed. I brought four pairs, and if anything, that might have been one too many. Oh, also, they have a John Muir quote inside the band: "Climb the mountains and get their good tidings." WHY THAT'S EXACTLY WHAT I DID, MR. MUIR! AND IN A PARK YOU EXPLORED TOO! Thanks, underpants.
I also brought merino socks by Goodhew for the same reason. It's like my feet don't stink! Amazing.
I plugged these before, but I'll do it again. Zensah compression leg sleeves saved my weakling legs. I will never go on a long walk without them ever again.
And now ... the two pairs of shoes that made the cut out of the too-many-pairs I brought with me: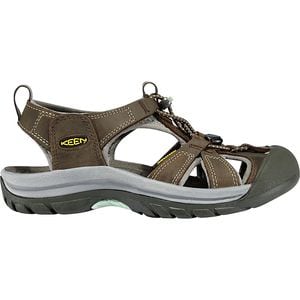 Yeah, my Keen hiking sandals aren't particularly cool looking. But they work. They protected my feet and let them breathe so I didn't need socks for 90% of the trip. They are more comfortable than flip-flops or the Earth sandals I brought along.
And the big surprise:
===All Saints Shearling Boots===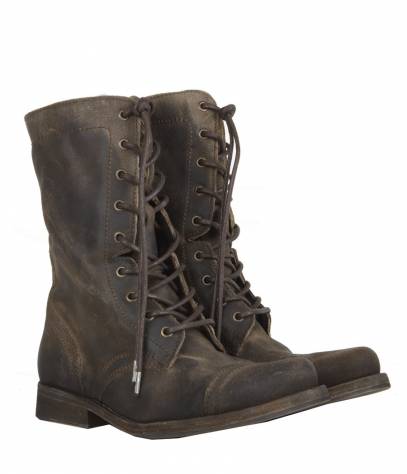 I bought these over the winter, and was really impressed with how comfortable they are. When it came time to think about what kind of boots I'd be hiking in, I kept wishing that I could find something that was just like these, but ... hikey. The shafts are leather lined with shearling (ugg boots, basically), so no breaking in was needed - and although shearling seems ideal for winter only, it actually performs quite well in the summer without overheating. I prefer shoes with a more flexible sole, like these, because they seem to be better for my feet and ankles. They're not heavy. They don't require much in the way of cleaning because of the style/color. One problem: leather soles. So I took them to a cobbler here in Philly and had lugs installed. Right up until the moment we left, I was wondering if taking these along as my hiking boots would be a mistake. After all, they're technically just fashion boots.
No mistake: they were perfect. I climbed Half Dome in these boots, and didn't get a single blister or have any problems with joint pain. The boots suffered no major damage either. And -- although this wasn't really a consideration -- I think they look great, even when filthy. Who needs "proper" hiking boots?
Posted by mormolyke 09:51 Archived in USA Tagged packing planning Comments (3)